Main tourist destinations

Woljeongsa Temple & Odaesan Fir Forest Trail

Forestcance (Forest Vacance), Time for Thinking
The most famous course to hike Odaesan Mountain, which is designated as a national park, is Fir Forest Trail. Fir Forest Trail, also known as the thousand-year-old forest, is one of the best known fir forests in Korea. In fact, this trail is quite famous as the filming site of the TV drama .
Many people visit the forest trail to make a parody or take selfies after watching . It is a great place for couples to make romantic memories while imitating a scene from a TV drama surrounded by the beautiful landscape. Perhaps because the drama was a big hit, it is popular for even overseas tourists. Everyone can be a star for a short time here. You might also want to try reciting the dialogue of the drama and think about the lingering imagery again in a beautiful atmosphere. And remember to take this beautiful scenery of the forest trail with you once in a photo, and once with your eyes.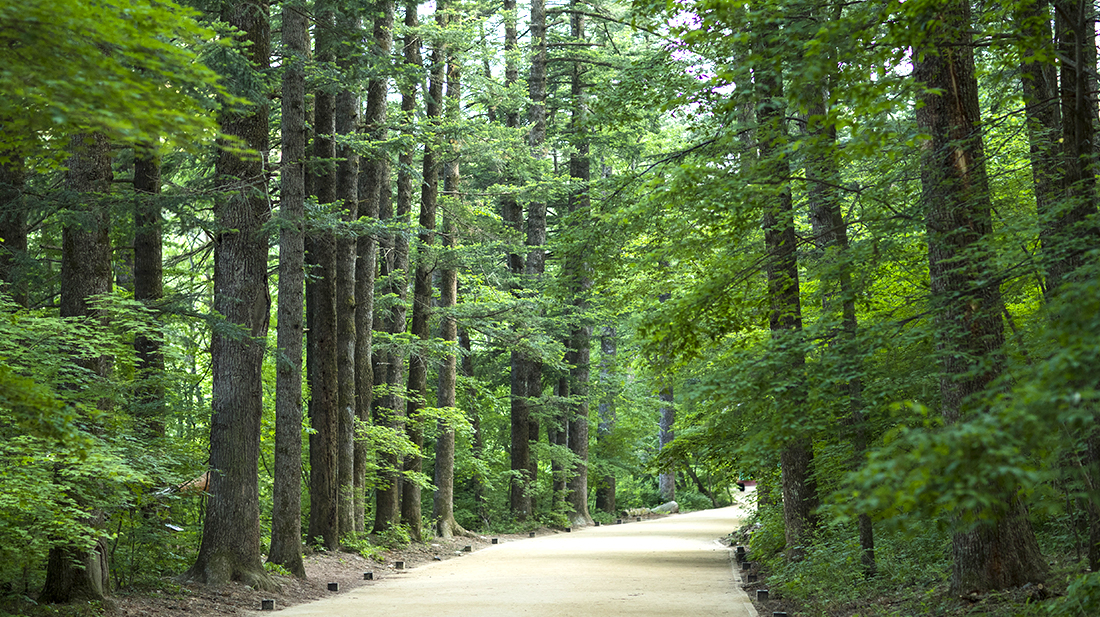 While walking along the stretches of Fir Forest Trail, you will soon feel why this place has become the most famous destination. It is 1.9km long and takes about an hour. The trail is well-kept so anyone can enjoy walking along the beautiful fir forest comfortably. In addition to the upright fir trees, you can find other great attractions in the trail such as a superb view of valleys and waterfalls. Looking at the valley surrounded by trees, you will feel cool in your inside with the sound of water streaming and the fresh air all around.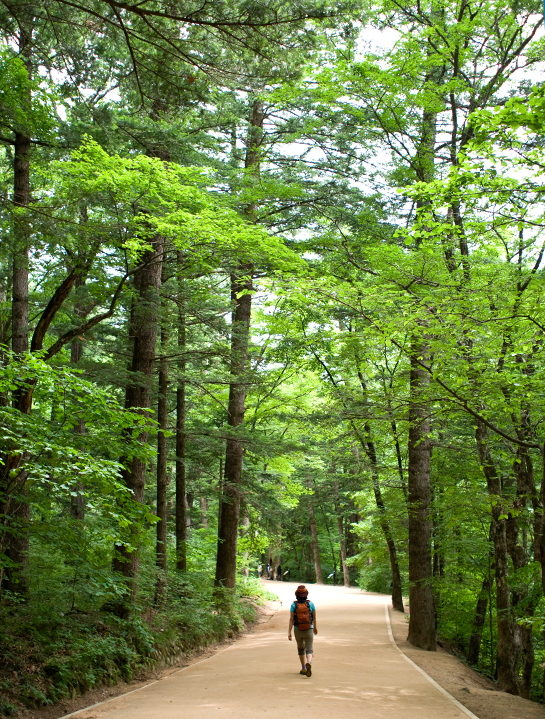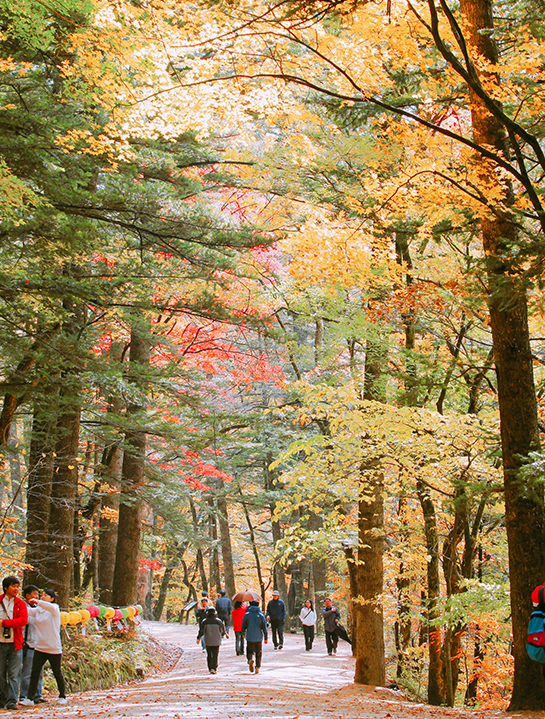 Fir Forest Trail is very attractive because it is always beautiful and peaceful in all seasons. Whenever you walk here, you will feel comfortable. The tranquility of this place, which is likely to greet you with consistent beauty, seems to be the biggest reason to visit this trail again. Take time to forget about your entangled thoughts and walk, and stop for a while to meditate in the forest. You will feel the charm of retreating to the forest by taking a short break.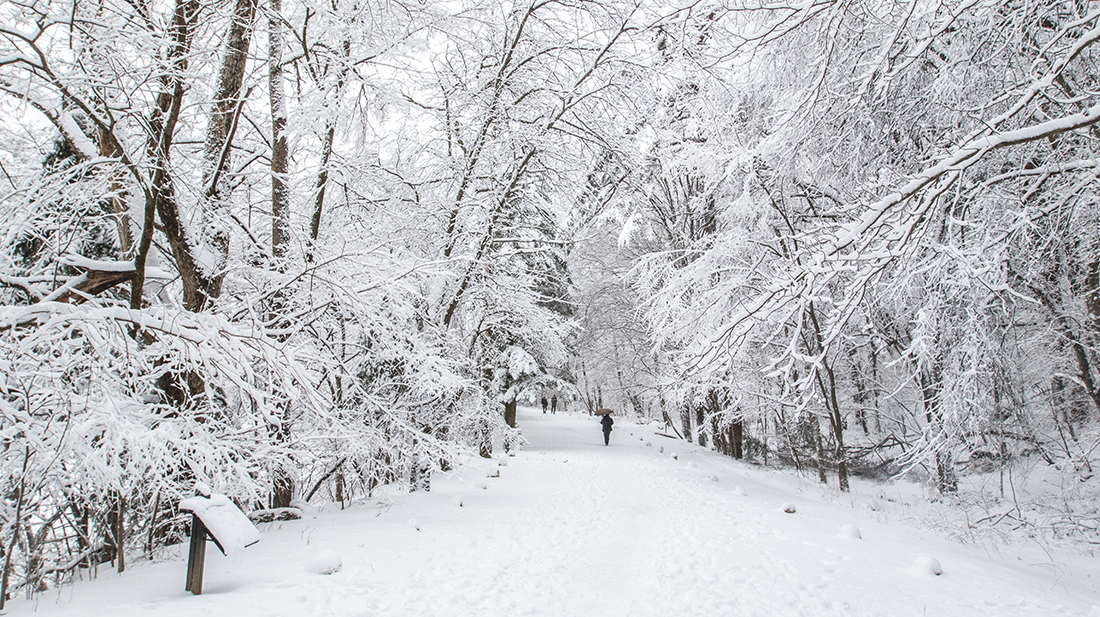 Even in the hot summer, the feeling of cool breeze from the mountains and listening to the sound of leaves rustle while walking through the trees, you may hope that time stands still. If you listen carefully, you will hear the sound of your feet stepping on the soil, valley water flowing, and wind passing by tickling your ears, which will make you focus more on nature.
Unlike daily worries about fine dust, being reluctant to go out, and breathing in a mask, this place is surrounded by clean and fresh air and you will have the freedom to breathe without worrying about fine dust. You can breathe in the phytoncide emitted by fir trees and enjoy smelling the green scent of nature. Walk along the trail and take a deep breath. You will smell pure nature in its entirety.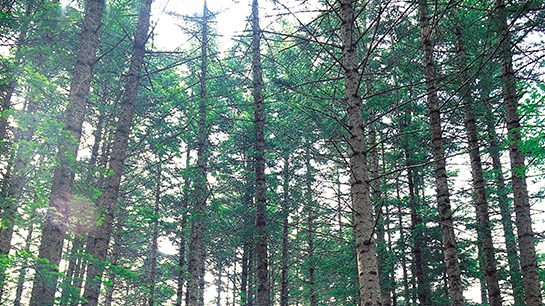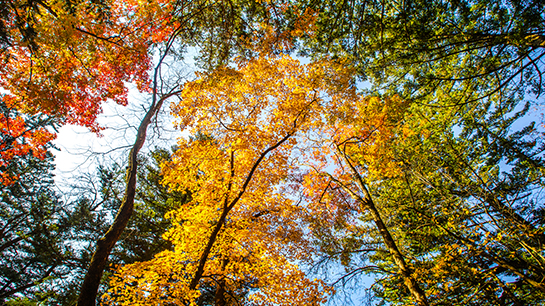 The forest heals you with not only fresh air and the smell of nature, but also natural energy from the clean space. You can focus entirely on nature, yourself, and the present. Just by walking, you will feel being 'healed' with all five of your senses.
The forest is quiet with no sound of cars, and is filled with the rich sounds of nature. It welcomes you with refreshing energy in spring, the scent of green in summer, the picturesque beautiful scenery in the autumn, and the quiet and dignified air surrounded by snow-covered trees in the winter. Every season and every moment is beautiful here.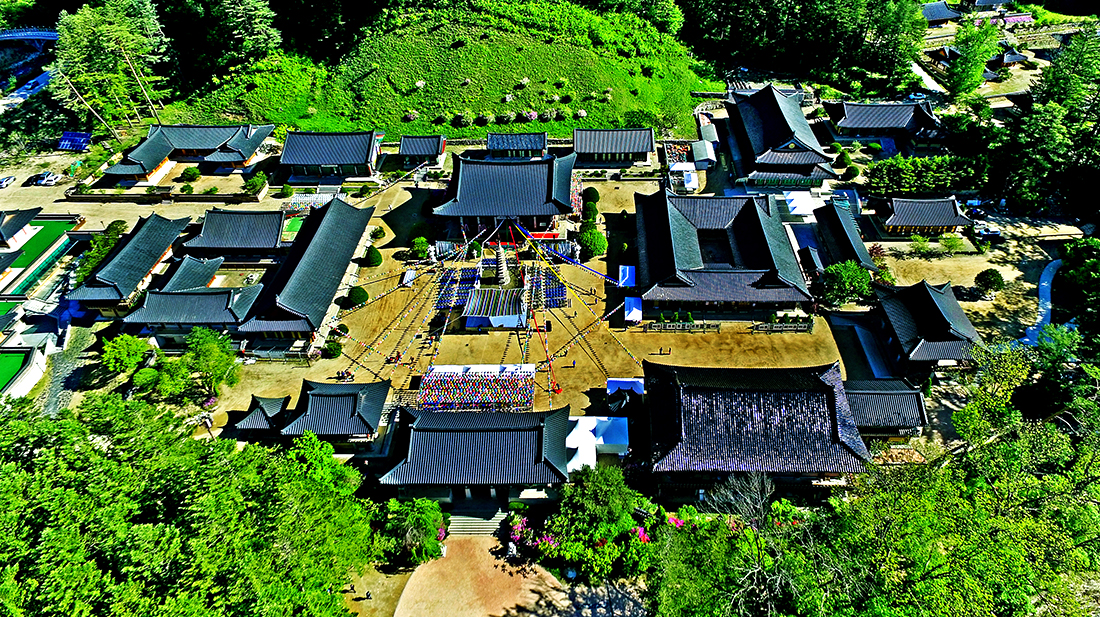 When slowly walking along the forest trail, you can see Iljumun Gate of Woljeongsa Temple.
Founded in the 12th year of Queen Seondeok of the Silla Dynasty, Woljeongsa Temple has a history of a thousand years and keeps many cultural heritages such as the Octagonal Nine-story Stone Pagoda of Woljeongsa Temple and Manjushri Wooden Sculpture. The temple surrounded by the forest has great value just by its long history. The energy of this old temple is very strong, but you can also feel serenity while looking around Woljeongsa Temple.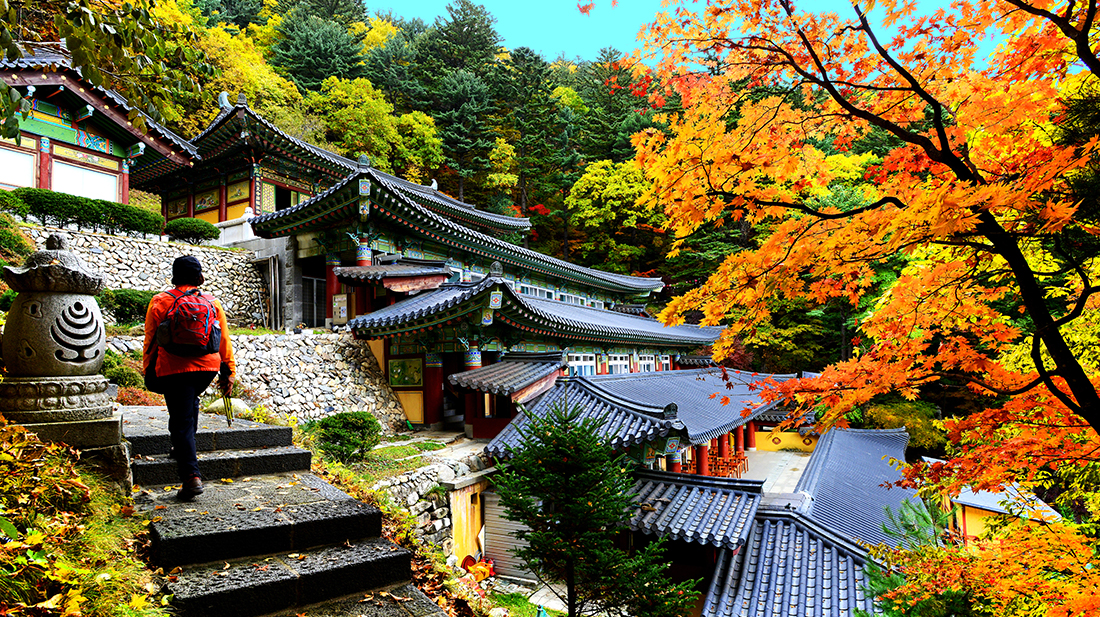 There are cultural heritages in this serene and quiet temple. It is mysterious yet magnificent when you think about how long it has kept these noble things. Looking at the forest and Woljeongsa Temple that have been here for a thousand years, it seems that the energy of this forest may be protecting Woljeongsa Temple.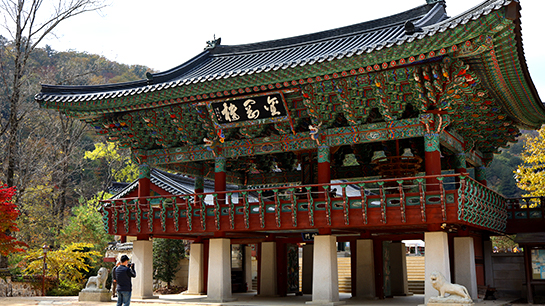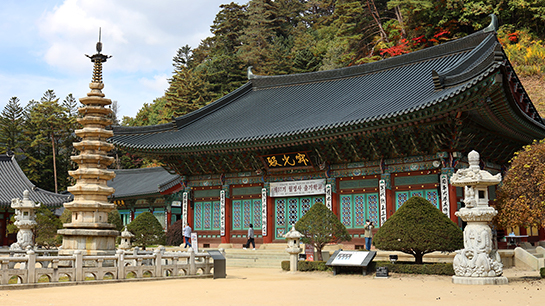 It is amazing and magnificent that we can feel the beauty and energy of a thousand years here now because this place has maintained and protected a long and noble history.
A temple is a mysterious place. Even if you are not a Buddhist, you will feel a sense of reverence and humility. In this place, you may feel that you should let go of all the secular worries for a while and think deeply about things that you may have not pondered before. It also makes you think deeply about yourself and look reflect on the past. You may be able to think deeper at the moment when you try to devoid your mind. This seems to be the greatest attraction of temples. This is a place where you can empty the bad and fill with the good.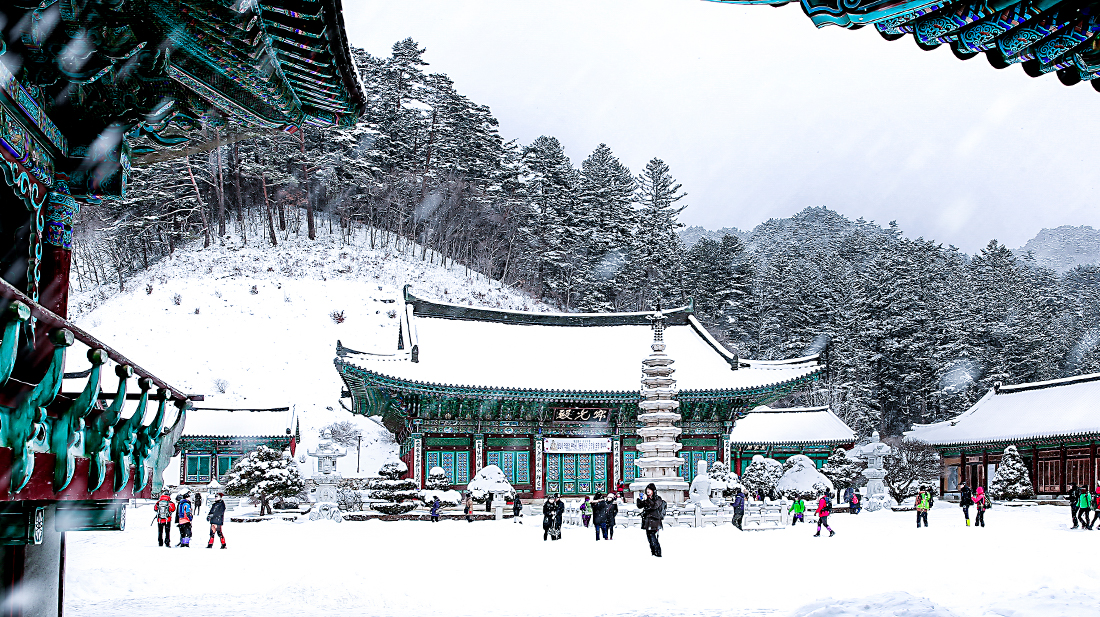 Just walking and looking around will refresh you. In this forest, you can fully concentrate on the present. Resting in a nice hotel or traveling to a fancy resort are all nice. But what you really need now may be a break.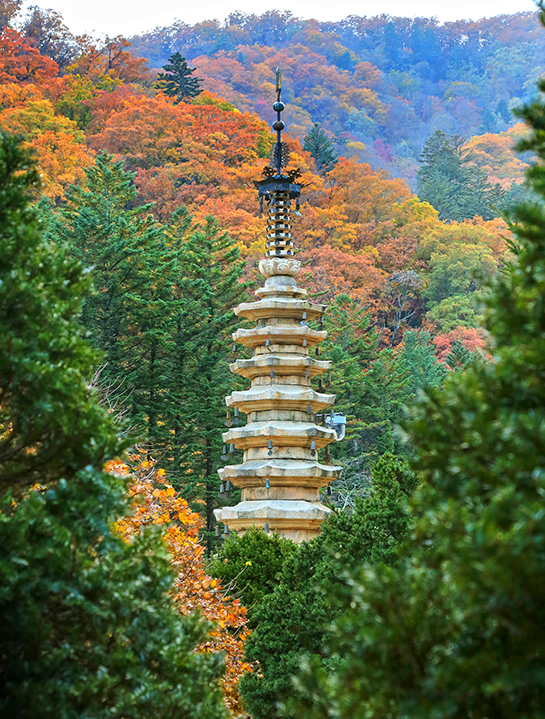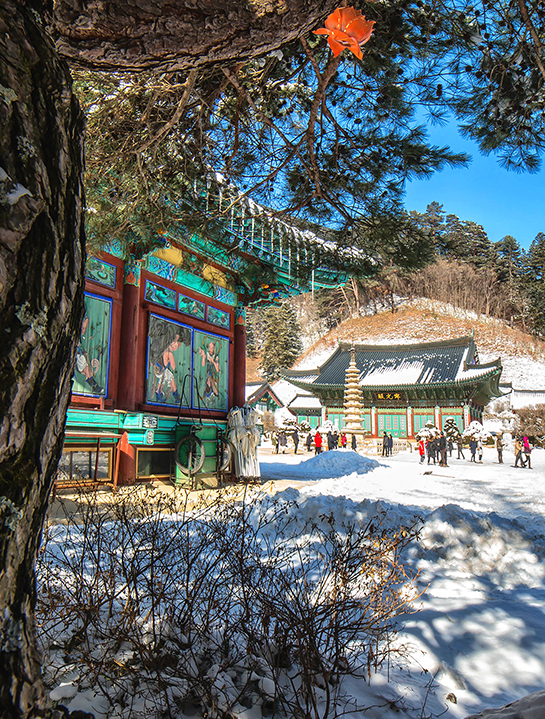 If you want a healing forest vacation where you can forget about reality and take a time for thinking and concentrating on yourself, empty your mind and body and fill them with the energy from the Fir Forest Trail and Woljeongsa Temple. No matter which season is, walk along the Fir Forest Trail. You will surely find yourself walking here again in another season.