Main tourist destinations

taxitour

Have you ever run in a green forest?
On an exceptionally good weekend, everyone may have felt, looking out of a window, that it was the perfect weather to go outside. When you admire skies and green trees that indicate changes in seasons, you want to go on a trip at once. In the end, however, you end up giving up on your plans to go on a trip into nature where you can view the cool sky surrounded by lush green forests since you think it is impossible while looking for places, making plans, and arranging transportation. Now, Pyeongchang can fulfill everyone's dream of a one-day trip. It is not necessary to drive a long distance or to find your destination hurriedly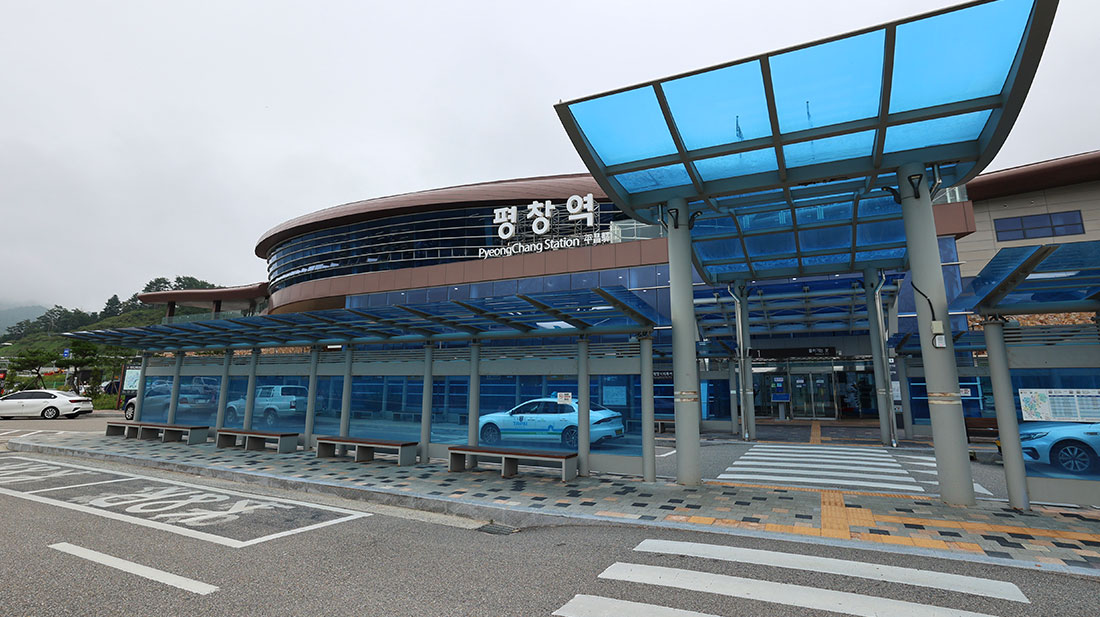 [Tour of Pyeongchang Tour Taxi] provided by Pyeongchang-gun is a product of traveling in a taxi here and there in Pyeongchang with various courses by theme. You can enjoy the whole tour from means of transportation to tour courses. Traveling just in a taxi in Pyeongchang is not all. Boarding the KTX and arriving in Pyeongchang marks the beginning of your journey in Pyeongchang. A heart stirred solely by the prospect of departing on a train journey becomes a captivating allure of a tour.
[Tour of Pyeongchang Tour Taxi] begins when you take a train in the morning at Seoul Station or Cheongnyangni Station. While on the train, you get out of the city, being fascinated by the ever-changing scenery outside the window. Before you know it, it is time for you to get off at Pyeongchang Station. As you leave regrets of the short train trip behind and come out of the station, cool, clean air greets you first. Around the time when, inhaling cool air, you realize that you come to Pyeongchang, a true trip is started. As you leave regrets of the short train trip behind and come out of the station, cool, clean air greets you first. Around the time when, inhaling cool air, you realize that you come to Pyeongchang, a true trip is started.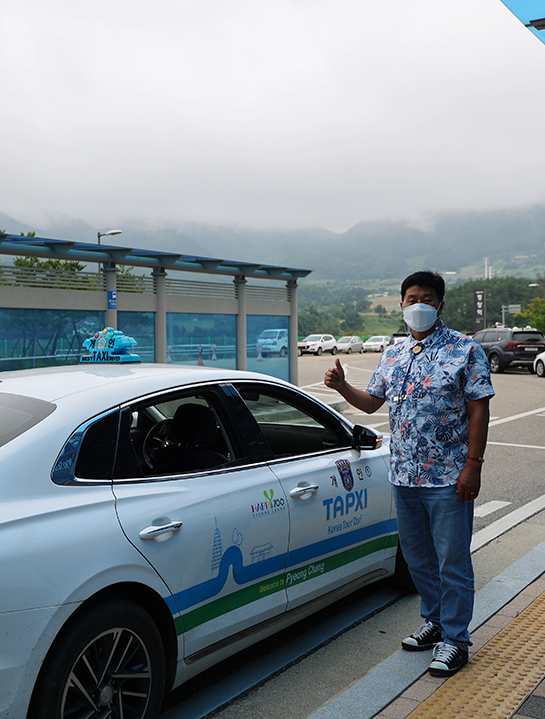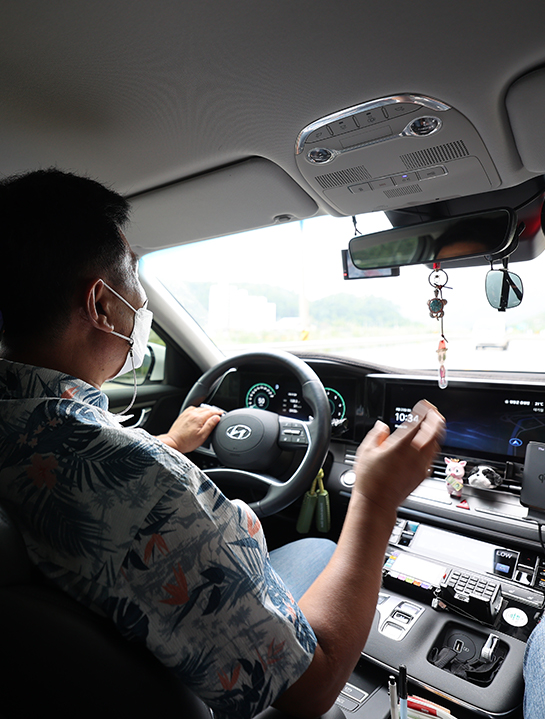 I embarked on my journey to 'Farm Herbnara,' my first desired destination, accompanied by a helpful taxi driver who would assist me throughout the day of my trip. Moreover, gazing at the breathtaking beauty of Pyeongchang's nature while traveling in a taxi en route to Farm Herbnara is a precious moment that the taxi tour bestows upon you. I hope that, during that time, you will embrace the lushness of nature and feast your eyes upon its verdant beauty to your heart's content. As I arrive at Farm Herbnara, a place whose very name exudes fragrance, I find myself surrounded by delicate scents of herbs that pervade the air throughout all four seasons, as well as by the sight of beautiful flowers. While taking a stroll surrounded by the scents of herbs, I feel as if they also permeate within me. It is delightful for you to enjoy a leisurely time with a drink at a café and a restaurant in Farm Herbnara. Additionally, there are numerous ways to enhance your experience with a variety of activities. You can enjoy a fragrant time in your own way, to your heart's content, and enhance your trip with a heightened sense of relaxation.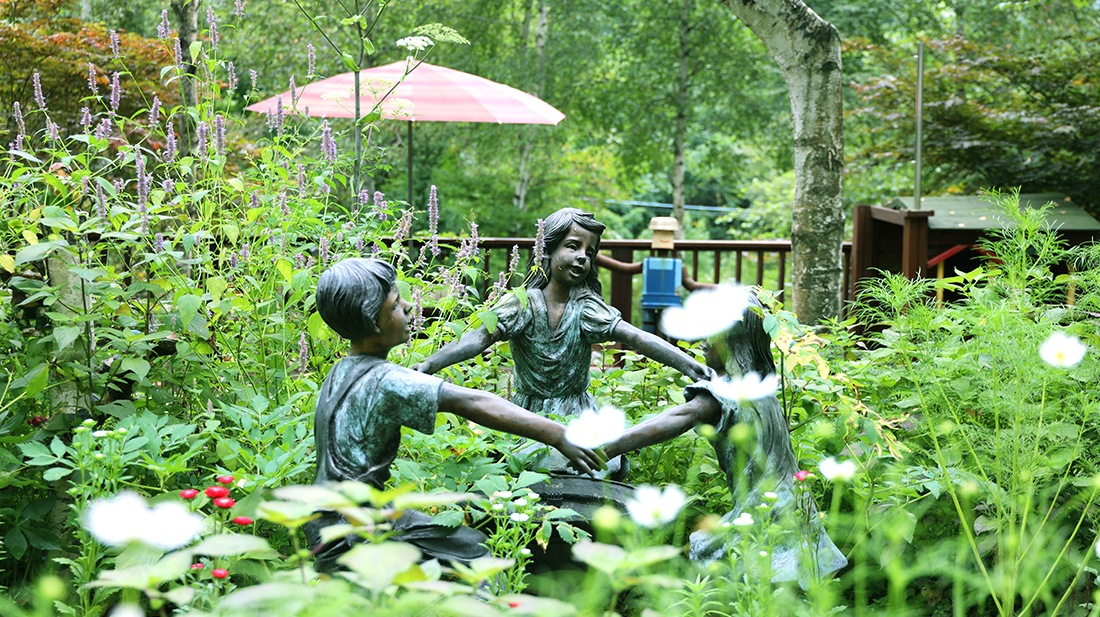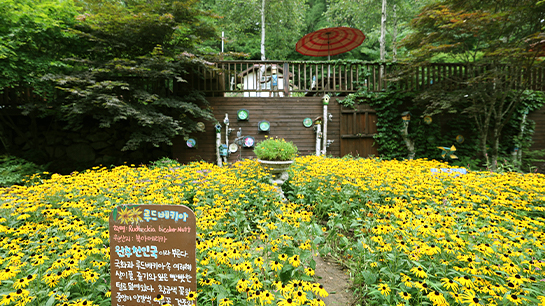 The next destination is 'Hyoseok Hill of Light,' a place that is sure to captivate your heart. Pyeongchang, Lee Hyoseok, and the beautiful Buckwheat Flower are words that come to mind when thinking of Pyeongchang. The terms 'Buckwheat Flower,' 'Buckwheat Farm,' and 'Lee Hyoseok' are indispensable sources of pride for Pyeongchang. Located in Bongpyeong, an actual background of 'When Buckwheat Flowers Bloom', a novel, 'Hyoseok Hill of Light' has many things to enjoy including the Book Museum, Korean Modern Literature Experience Center, and Lee Hyoseok's Literature Experience Center. Not only can you experience the life of the writer from Lee Hyoseok's Birthplace to the Korean Modern Literature Experience Center, but you can also immerse yourself in the beautiful scenery depicted in his works at a square adorned with various sculptures and literary creations. It is delightful to take in the expansive scenery at the sunny square, and equally gratifying to appreciate the works serenely at the experience center while delving into the life and literary contributions of the writer. Through your own unique perspective, you can immerse yourself in the literary works set in Pyeongchang.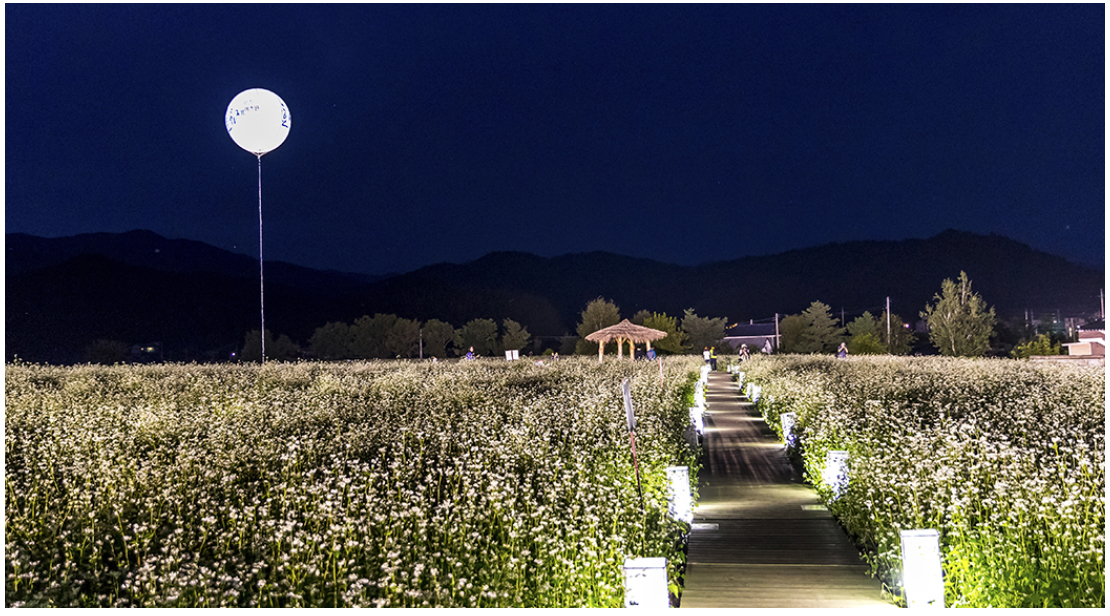 As you can feel the comfortably built literature space and the harmony of beautiful nature together, it shall be an attractive place even for those who are not avid readers. For those who live hectic and fast-paced daily lives, this place offers a gift of relaxation, allowing you to spend time solely for yourself and indulge in moments of slow contemplation. Both adults and children shall be given intellectual nourishment by time at the literature experience center where you can feel in various ways parks and works that can give adults relaxation and children freedom. If you fully satisfy your hunger with intellectual nourishment, then, now the next tourist destination is waiting for you, where you can be enraptured in the nature, the biggest attraction in Pyeongchang.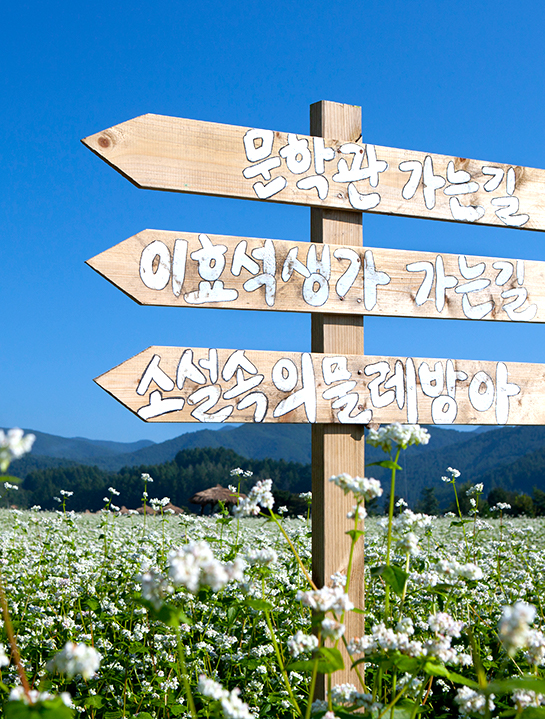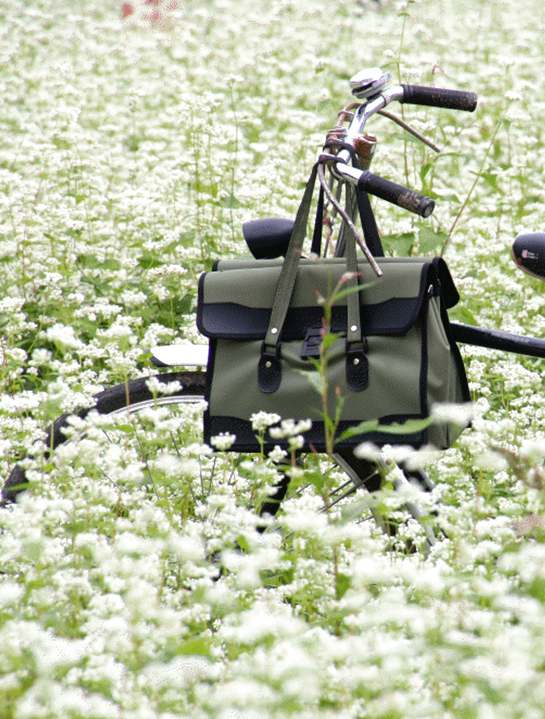 With Bongpyeong, which emanates the scent of buckwheat flowers, left behind, let's embark on the final journey in Pyeongchang at 'Millbridge (Needle Fir Forest Path of Treadmill Bridge Mineral Water),' a serene forest surrounded by needle firs. Though fragrant herbs and enjoyable literature experiences are wonderful, the primary reason why many people love Pyeongchang is perhaps the nature that holds clean air and green forests. As if repaying it, Millbridge greets you with clean air from the entrance. Walking along the forest path surrounded by needle firs and the trails where sunlight twinkles through, you naturally find yourself inhaling deeply. Clean, cool air fills your body completely, and you feel refreshed even in your mind. If many harassing agonies and stresses of each of you are exhaled with each breath, you will now experience the sensation of fresh air, uplifting ideas, and invigorating energy coursing through your body and mind.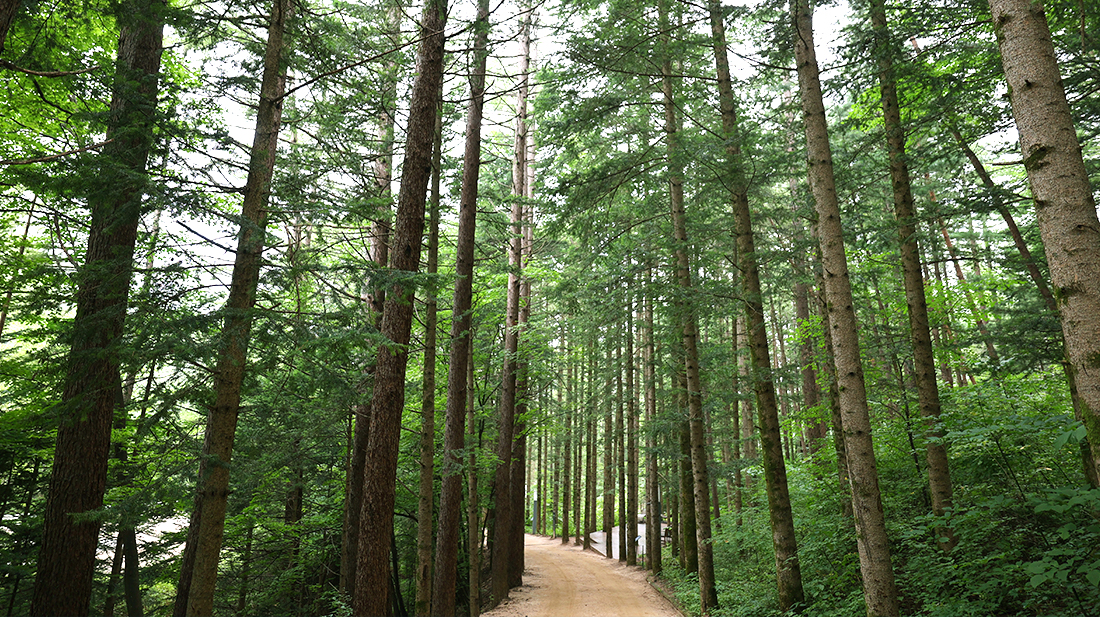 Walking along the path, you will encounter the Treadmill Bridge Mineral Spring, an essential and integral part of the journey, which has been preserving the forest for an extensive period. Seeing the mineral spring nestled in the thick forest fills you with a sense of joy as if stumbling upon an oasis. On the way back, after walking along the path through the needle fir forest and encountering the mineral spring, you will undoubtedly feel refreshed, unlike before. I believe it is due to the rejuvenation of your body and mind amidst the dense trees along the winding forest trail. Here, unlike in the city where it is difficult to take a deep breath, you will find yourself naturally taking deep breaths over and over again, without even realizing it.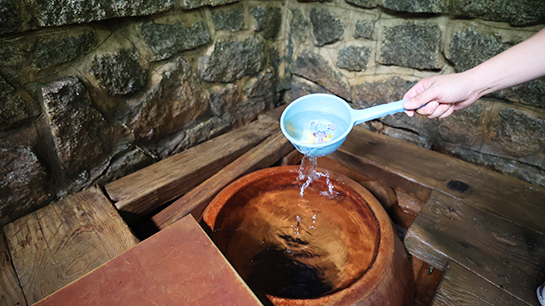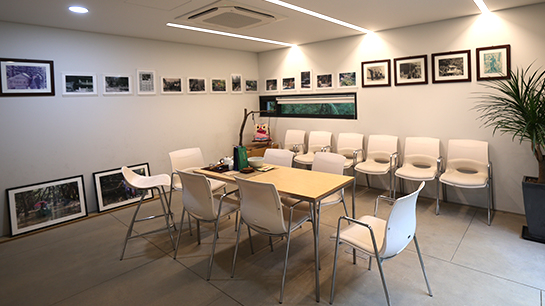 With the trip concluded at Millbridge, you get to come back to Pyeongchang Station, where the journey began. Here, as you board the train bound for Seoul, a day filled with the fragrant, abundant, and clean energy of Pyeongchang comes to an end. But there's no need to feel a sense of longing. That's because a trip involves cherishing the memories of that special day. On the train ride back to Seoul, let's imprint the scenery observed during our time in Pyeongchang, the moments of contemplation, and the refreshing air deep within our hearts. The recollection will be a source of power that enables you to live your daily life once again.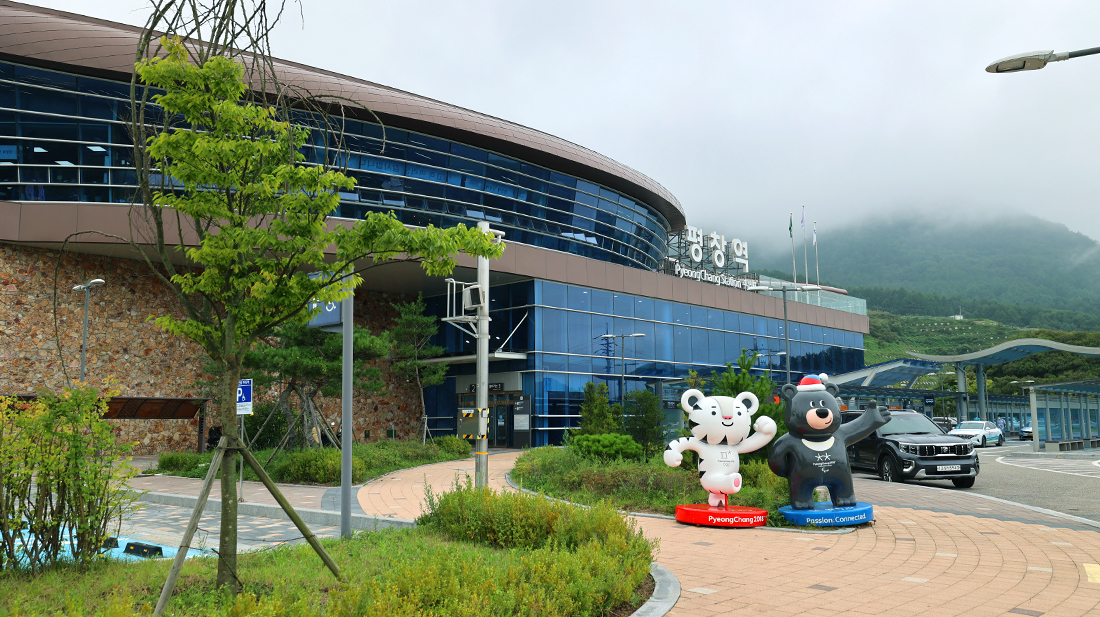 On days when you want to momentarily escape from the busyness and repetitive nature of daily life and venture into nature, let us set off for Pyeongchang with a light mind and steps. As all the preparations are already done by [Tour of Pyeongchang Tour Taxi], the only thing left is to put yourself on a train and run into the green forest.
Reserve Pyeongchang Taxi Tour