Main tourist destinations

Café Tour

[Machu Picchu],
the heaven for fuzzy and cute alpacas
If you have made a trip plan in Pyeongchang, you may have searched for a ranch or a farm as part of your itinerary. However, there is a noticeable place that some people could not visit due to time constraints or difficulties in accessing it: Machu Picchu, an alpaca café.
One of its biggest strong points is its entrance fee. Unlike other places where you are required to pay both an entrance fee and a food experience fee, and order a drink separately, at Machu Picchu, you can enjoy free entry by ordering drinks based on the number of people. If you want to experience giving food, you can buy it at a vending machine conveniently.
You can avoid a situation where, despite wanting to visit with children, you have to bear the burden of paying entrance fees for the whole family. At Machu Picchu, children can interact with alpacas, participate in feeding them, and enjoy other activities as much as they like. Meanwhile, parents can relax and enjoy their drinks comfortably.Furthermore, as alpacas here are not kept in cages and not unilaterally given food by people, you can experience being close to them in person, petting and giving food to them.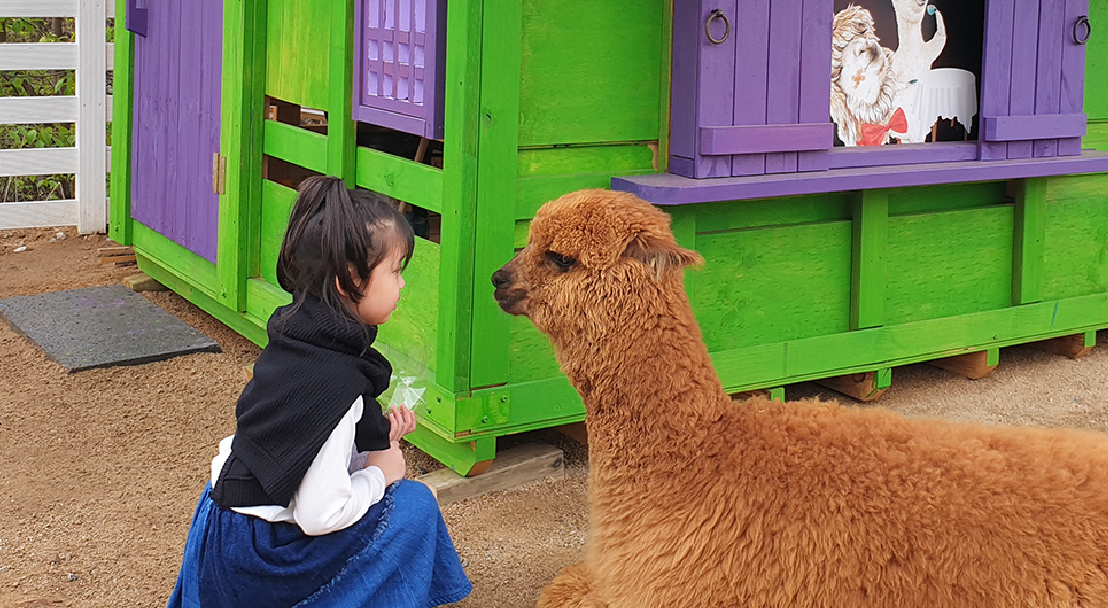 Animals here are not kept in cages, which sets them apart from other places. Children have the opportunity to learn about animal care by interacting with them through touch and communication.
Such experiences help children commune emotionally with animals. Experiences that allow children to see clean and well-managed alpacas up close, and touch them with their fingertips, can serve as excellent educational opportunities.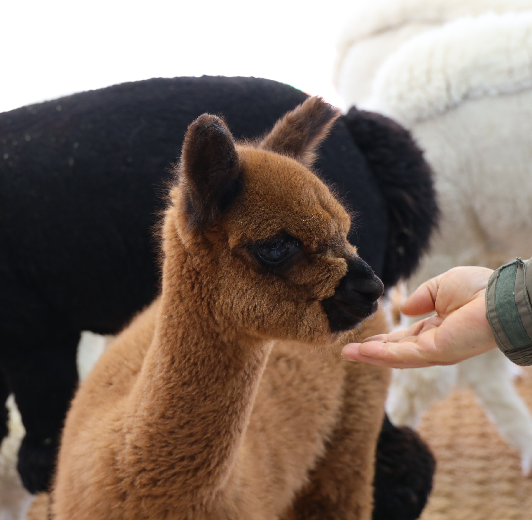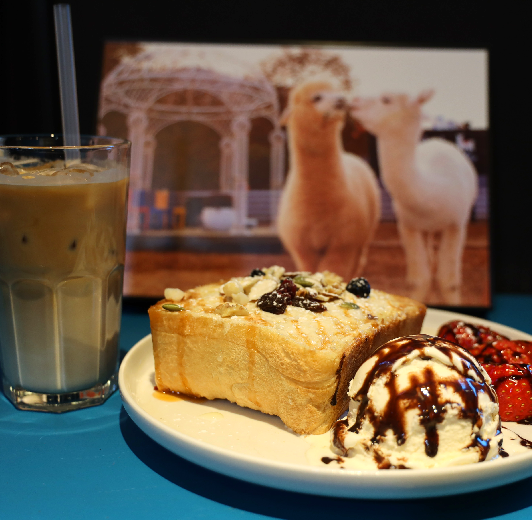 [Elim Coffee],
a good place to get intoxicated with coffee scents
Located along Songjeongcheon Stream, Elim Coffee is a place where beautiful scenery and fragrant coffee scents come together. Before placing your order at the café entrance, you will find yourself captivated by the stunning architecture and the scenic view of Songjeongcheon Stream visible from the café. As a result, you may spend quite some time exploring the surroundings before ultimately being drawn to the café counter by the enticing aroma of coffee.
The attraction of the café is not solely limited to its beautiful building. The deep, robust coffee flavors, along with signature menus and desserts like Buckwheat Cream Latte and Memiricano, uniquely infused with the combination of buckwheat and coffee, are more than enough to entice people to visit Elim Coffee.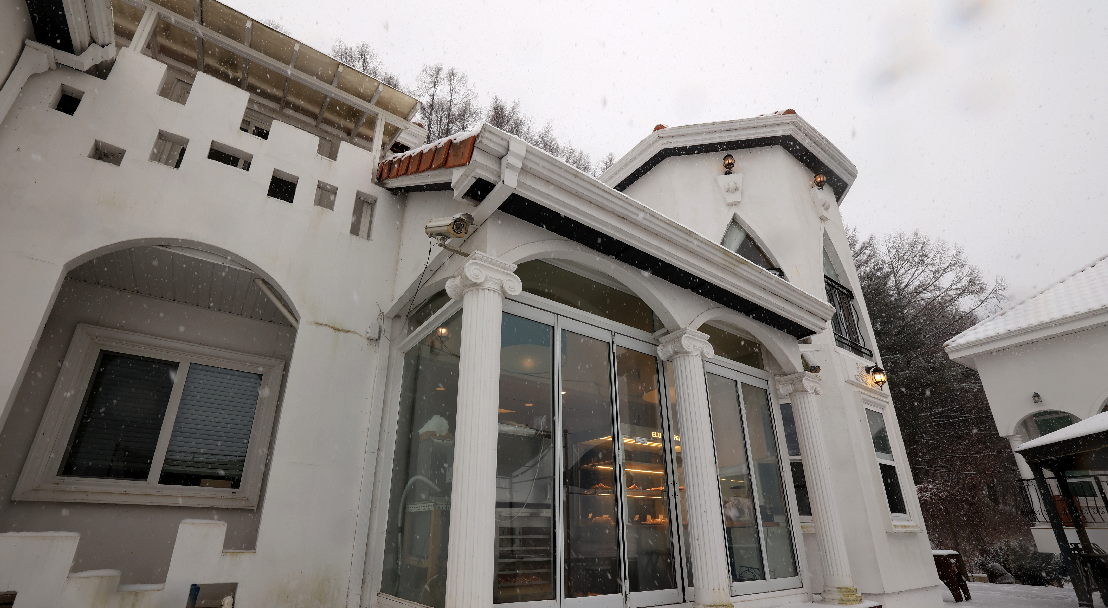 As the café provides both indoor and outdoor seating options, you can choose your seat based on seasons and weather. With its abundance of windows, the interior of the café allows ample sunlight to filter in. However, on a beautiful day, I highly recommend securing an outdoor terrace seat, indulging in a cup of coffee, and relishing the splendid weather. If you have fallen in love with the scenery of the café once, now it is time to taste the coffee. It also offers a variety of drip coffee, setting itself apart from other franchise coffee shops. If you are a coffee enthusiast, you can not only indulge in aromatic coffee tailored to your taste, but also purchase your favorite coffee beans.
Additionally, a variety of desserts that pair well with coffee are available. These include potato bread and coffee bean bread infused with the regional flavors of Gangwon-do, as well as other loaves of bread that complement coffee perfectly, such as salt bread and financiers. There is a place you must visit before leaving the café, once you have savored the delightful coffee and desserts. That is Photo Zone with Angel Wings painted as a mural. If you delight your eyes with the beautiful views and your palate with coffee and bread, you can perfectly conclude your visit by taking a picture, encapsulating the essence of your trip. Elim Coffee offers delightful experiences for both your eyes and your taste buds: I highly recommend visiting here if you are a coffee lover, as it is truly worth the experience.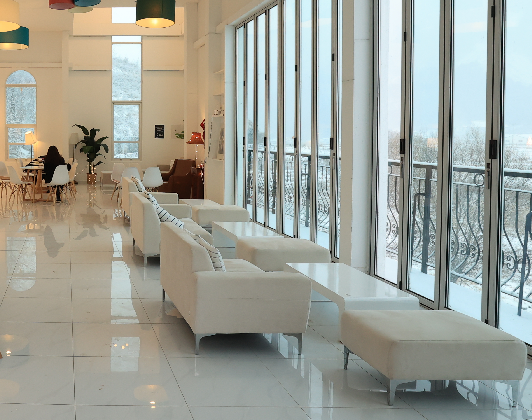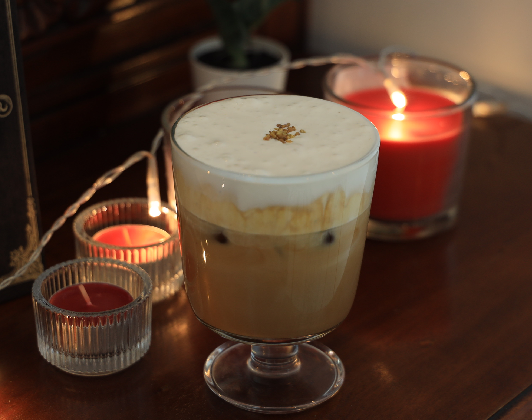 [Gerizim],
a small Europe in Pyeongchang
Café Gerizim, which creates the impression of being in a European garden from the entrance, seems like a miniature Europe brought to Pyeongchang. There are a fountain and sculptures on the green grass, and even a building exuding exotic ambiance; even before you come in, you cannot take your eyes from everywhere in the garden. Colorful, beautiful wildflowers scattered on the green grass brighten the Gerizim garden with different figures in every season.
If you admire beautiful landscapes in the garden, then the interior as beautiful as the garden waits for you inside the café as well. The interior of the store, filled with antique furniture and props, allows you to admire the collection of antique items while also offering them for sale. You can see and purchase adorable props here, even if you didn't plan on visiting a separate antique prop shop. Therefore, it is advisable to take your time and explore the surroundings at a leisurely pace.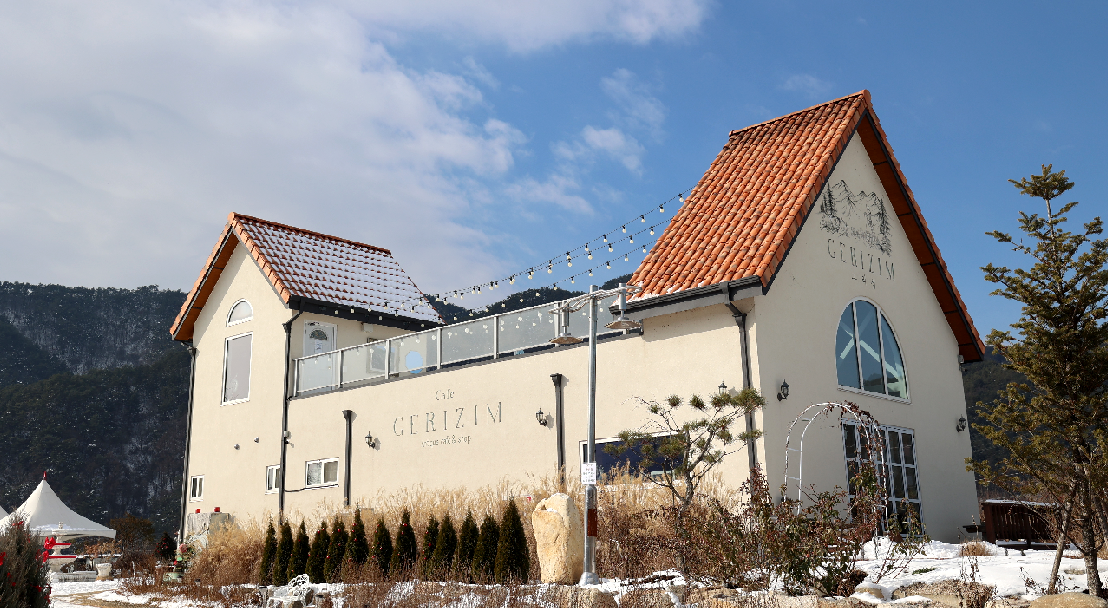 As Gerizim prepares various menus of coffee and teas, it is even good for people who cannot drink coffee to visit light-heartedly. Also, there are signature menus like 'Job's Tears Cream Latte' and 'Gerizim Rossetti' which you can taste only at Gerizim.
People who cannot drink or enjoy coffee can enjoy the beautiful scenery of Gerizim with delicious drinks as well. In addition, when it comes to delicious beverages, desserts cannot be left out. At Gerizim, apart from the typical bakery items, the ice cream croffle is particularly popular. Just imagining the harmony of sweet and smooth ice creams on the crispy texture of croffle brings delight to your taste buds.
Additionally, you can bring your pet along to Gerizim, making it a perfect opportunity for a leisurely stroll with your furry companion. Gerizim where you fall in love with beautiful landscapes, and adorable props, and indulge in delightful desserts, is a café that should hold a special place in your Pyeongchang experience.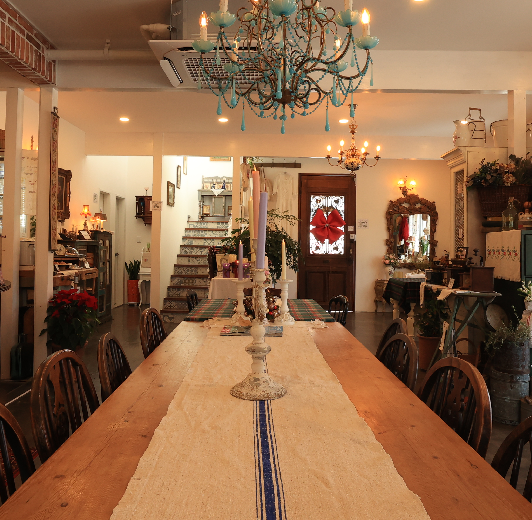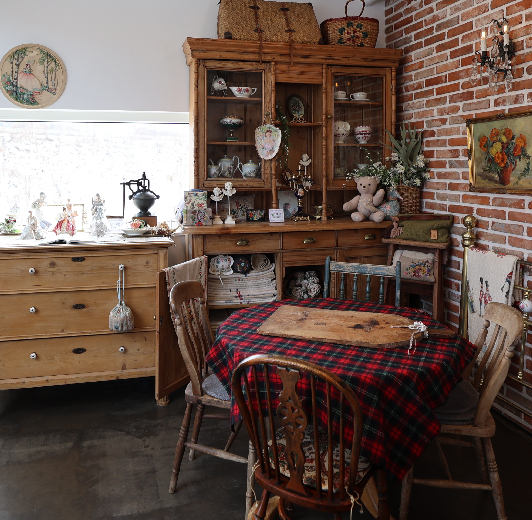 [Trigo],
a café rich with buckwheat scents
Café Trigo, located in Bongpyeong-myeon, captures the current trend with its impressive exterior. Bongpyeong is well known for buckwheat, and at the café, you can taste various drinks and desserts in use of buckwheat, suitable for the location. [Trigo] means buckwheat in Portuguese. As a café nestled in the hometown of Buckwheat, it is an intriguing café where you can feel a deep affection for Buckwheat from its name to its menu offerings.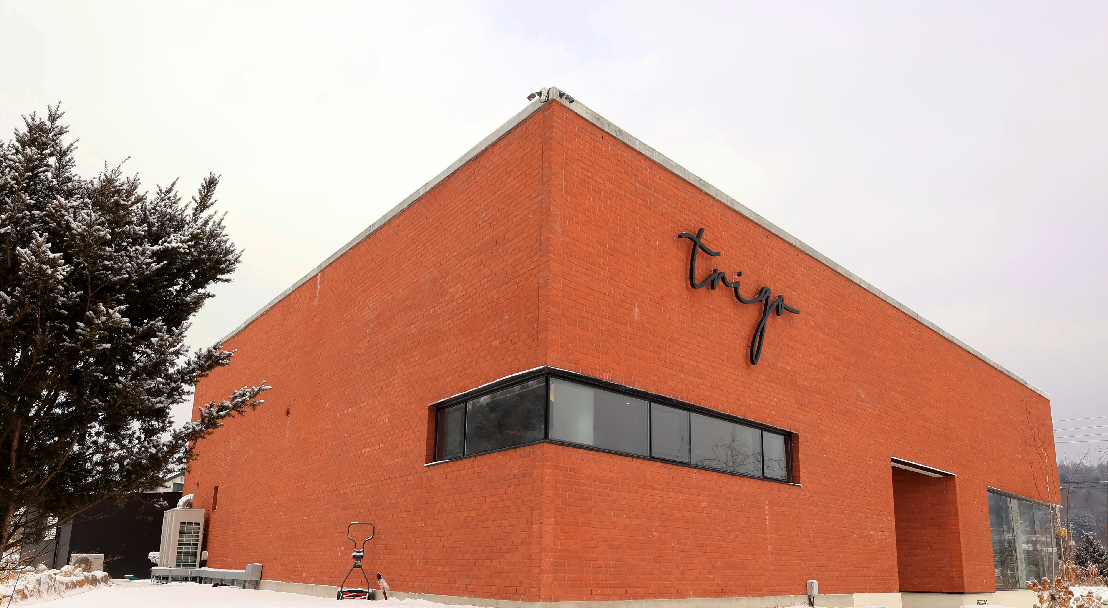 Buckwheat is put in all the signature menus of Trigo. Various and unique menus made from buckwheat, including 'Buckwheat Ice Cream Latte,' 'Trigo Cream Latte,' and 'Buckwheat Milk Hand-made Patbingsu,' catch your eye. Also, all the coffee menus can be changed to decaffeinated coffee beans. You can feel consideration for people not suited for caffeine. You can taste the signature menus of Trigo without caffeine.
Trigo is a bakery café, and the reason why breads here are popular is that they are made using organic flour, organic sugar, non-antibiotic eggs, and high-quality butter. You may have experienced that, though you like bread, you were reluctant to eat them due to flour and sugar. The bakery not only had its cake but also savored it, offering both taste and health with high-quality ingredients. The signature menu, Salt Bread, comes in various options like Squid Ink, Basil, Herb, and Buckwheat Salt Bread. As drinks and bakery made from buckwheat are digestible and good to enjoy light-heartedly, they are popular.
Moreover, the advantage of other breads without buckwheat is that you can indulge in them without health concerns, even if just for a moment. Being able to experience such diverse flavors in the buckwheat region, the café is a place where you can truly appreciate the love for buckwheat. If you're looking to explore unique buckwheat options beyond buckwheat noodles or pancakes, I recommend indulging in buckwheat desserts at Trigo, where the rich aroma of buckwheat fills the air.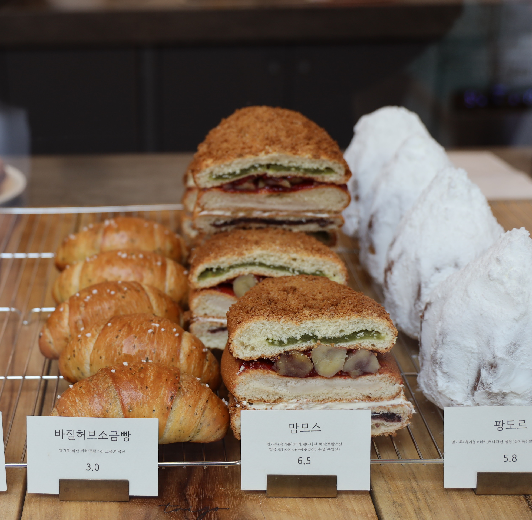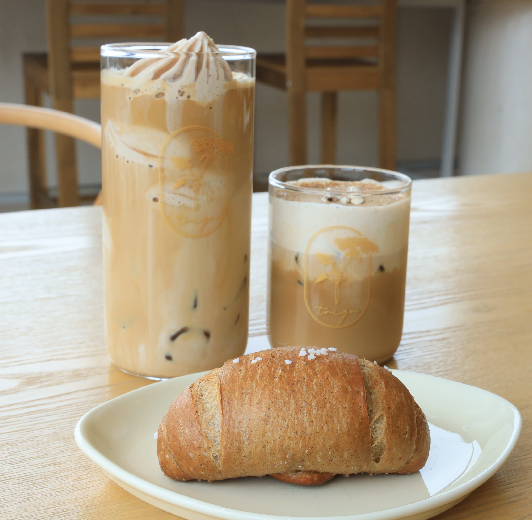 [Yellow Tree],
a café capturing colors of seasons as they are
평창 미탄면 산자락에 자리 잡은 카페가 있다. 카페를 찾아가는 길은 마치 숲 속으로 캠핑을 떠나는 듯한 느낌을 준다. 부지런히 숲길을 따라가면 작은 카페를 찾을 수 있다. 노오란 빛의 은행나무 숲 속에 둘러싸인 작은 카페, 그곳이 옐로우트리 카페이다.
막상 카페에 도착하면 왜 이곳의 이름이 옐로우트리인지 바로 실감하게 될 수 있다. 밝은 노란빛으로 물든 은행나무들이 빼곡히 들어서 있고 그 사이엔 편히 자리를 잡고 숲 속의 공기와 가을의 빛을 고스란히 느낄 수 있는 카페 공간이 있다.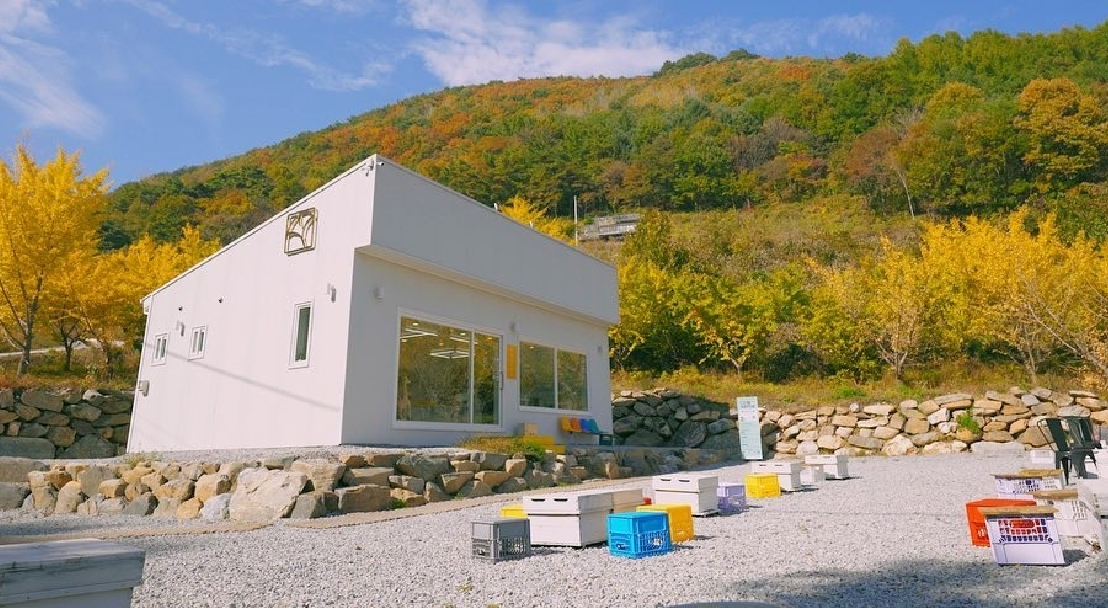 There is a café located on the hillsides in Mitan-myeon, Pyeongchang-gun. The paths that lead you to the café give you the impression of going camping in the forest. By diligently following forest paths, you can discover a small café nestled amidst a forest of yellow-colored ginkgo trees—Yellow Tree Café. Once you arrive here, you will immediately understand why it is called Yellow Tree. Ginkgo trees, adorned in a vibrant yellow hue, stand densely, creating a cozy café space where you can truly immerse yourself in the forest air and the warm light of autumn. The reason why many visitors here prefer the exterior space to the interior is that, above all, they can feel the beautiful nature closely. You can take a picture like a drawing in everywhere, as you walk along the gingko forest, where your steps are touched on and your camera captures. Furthermore, it gives people who are camping is an onerous impression, as if they are burdened by the activity of camping.
If you want to feel the Picnic in Forest satisfactorily, I recommend that you order the 'Picnic Set' menu and enjoy the picnic lightly. At the place surrounded by ginkgo trees, you can enjoy fragrant coffee and desserts, making the mood of a picnic. If you enjoy the picnic, then, now let's embark on a stroll through the main attraction of the café: the gingko tree forest. You can take some time to relax and enjoy a heightened level of comfort as you walk along the forest paths with your beloved partner, family, and friends. Listen attentively to the sound of leaves rustling beneath your feet, and savor the refreshing scent of the fresh grass.
I recommend that at Yellow Tree, you take a moment to go on a picnic in your very own secret flower garden, where the scent of greenery fills the air in summer and yellow leaves adorn the surroundings in autumn. It will be a time for your eyes to capture the beauty of nature.